Certificate I-CAC No.022/3190


I did found a painting that I did create more than 30 years ago!
Febr-2017
I did found this creation what should be for that years a painting that I didn't show to anyone!
Today I like it and it brings me joY and a big smile at my face.
What did change?
I did change, not this painting that is still the same, I do not even know anymore why I was ashamed of this creation, because if I look to it now, it was one of my first attempts to create a self portrait. I think it is the age, I was young, and growing older means growing wiser I think, or better said I hope!
Well at least this painting did give me today the largest smile you can get and a nice memory.
Years are passing by too quick!
I wish you all a very nice weekend with a lot of smiles, it keeps us healthy!
Me today!

18-01-2017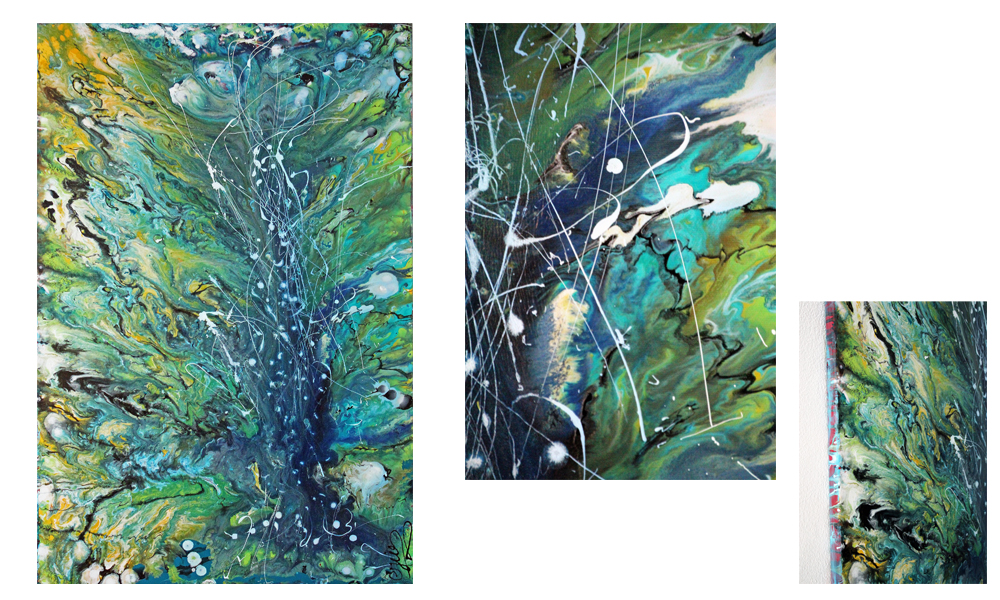 This Painting Is just finished today, I had a lot of inspiration this week and did make a start with two different paintings.
Normally I have dreams at night time, and had already the image and feeling I do want to paint what I had seen in my dreams and know exactly what I want to put at the canvas, I even get very depressed, if it is not exactly what I had seen, and will start all over, if it brings me not enough happiness!
This week for the first time in my life it was different, I was starting with red, because I did want to put at the canvas what I had seen in my mind, but after all those yellow and red tones, I did suddenly try out other colours then I did had seen in my dream.
So my end result is a total new born, her name is: "primary"
She is created with acrylic, ink and golden powders, and have a format of 80 cm x 120 cm
23-11-2016
Interview Dert Nijland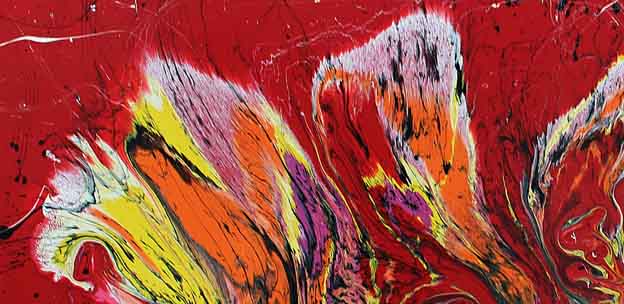 Happiness Hormones and puzzles: a conversation with Caroline Vis

Being an educational management consultant, I use terms like learning targets, development processes and evaluation-criteria. But what is the use of these words when one is an artist? How do you learning then, from whom and with whom do you learn? How to decide the value of your own work and how to steer your own development and growth?

On a cold Tuesday morning these are the topics Caroline Vis and I talk about. Caroline tells me all about it and I listen, marvel and ask the occasional question. The questions I prepared seem irrelevant but our meeting gave me more insight in the artist Caroline Vis is.
On her site Caroline describes that she first visualizes a new work of art. How exactly?
She nods: 'Yes, it's in my head, can be there for days 'till the moment I feel: Now it has to happen. It makes me sad when I can't get what I had in mind. It's a puzzle that I control. Though sometimes I let it go completely. Than it just has to become whatever it turns out to be. That can be ok as well.'

'I always work towards the sum of it all, the total. And the details, those are little gifts. In the end, when I can see what I've made, I can be amazed about myself. It is possible that I want a detail in the next painting, that's the exploration of the technique. Every time I make the paint thinner or thicker or I mix one with another, something else happens.'

Do you make a plan beforehand or do you analyse afterwards?
'No, it just happens while I'm working. I see what happens. I imagine that when I approach it in a certain way, there will be a specific effect. It's in my system. I just know how to do it and it is that puzzle all over again. In my head I know what I've done.
Sometimes I am shocked by what I've made, a real admiration for the fact that something like that is within me. I don't always recognize myself in it and can be as surprised as anyone who has never seen it. I know I won't get back that effect easily. It takes some time but it usually comes back to me. Though I did make some paintings I will never be able to make again, no idea how I did it.'
She laughs: 'Those are rare exceptions, I am glad to say.'
It sounds like an unconscious process, can you steer your own direction?
'I must allways catch up on myself. Anything I do has consequences. Especially in dripping technique. Every movement has it's own result. That may or may not be what I wish. The very moment I control the paint, I overcome myself. Things do not happen incidentally but because I want them to. Those are the puzzles with paint and technique. At all times I try to control and correct.'
Last year you visited Venice and saw a painting by Jackson Pollock. What did that to you?
The memory makes her eyes parkle.
'It brought me more questions. Strangely not about the painting itself. But questions about what he must have felt when he was painting this. I was not really moved by the paining but by the thought of his thoughts. A reproduction in a book is different, just a picture. But I was really impressed when standing in front of the painting. I can look at art and be touched. For me art is when I am touched. But is does not influence my own way of painting and working.
How did you learn to make your art?
'I do not learn by watching Pollock work. I had never even heard of him when I started my way of painting. I wanted to be able to paint without a brush. I set myself the task of making five paintings by not using a brush. I saw how it grew on me, from painting number 1 to number 5. That's what I do: I make my own challenges.
It started when I couldn't sleep for nights at end and started to paint. With whatever I had at hand. I would walk into the kitchen or get sand from the sandpit and work with it, just because I didn't want to use a brush. That's the game I play: how can I reach deeper within me than ever before with paint and canvas.
The best advise ever given to me came from an art-teacher. He told me: You know zilch about art and painting techniques and that is your power. Go and explore but do not follow any education for that will make you too academic. You will lose too much of your originality. You work like no one else, so please do not come to my class. And I never did.'
One well known learningstyle is by working with other artist. Would that work for you?
'No, I paint alone, just for me. It's an intensity of life. Another might get happy by driving a sports car, I am happy when I've accomplished another step, something I couldn't before. That is pure happiness. The value of a painting is: how may happiness hormones did it give me while making it. During its growth and when it's finished. That's why every painting gets to hang at my wall for at least four weeks.
The existing painting does not influence the next one. A new piece must grow in my head until it is ready to get made. The previous one is just another painting. It's why I don't paint when I'm not in the mood. For me painting is like breathing. Other artists have no part in that.'
Can you see your own progression from the moment you started painting professionally 'till now?
'Oh yes, I must make these developments, this puzzle every time. I probably wouldn't paint anymore if there were no more growth. I can easily reproduce the paintings I made a couple of years ago, but some of the paintings I have made recently are one of a kind. I could never again make anything like that, so much depth.'
'But is it up to the observer to have an opinion on this question. Anyone watching is free to his or her own thoughts. I have already earned my happiness hormone.'

With an bread roll and a cappuccino we finish our conversation. Do I have a clue about how an artist learns? No, not really. But one thing is clear: just doing and experiencing is what works for Caroline Vis.

Large large even Larger... Can anybody tell me why I feel the urgent to paint large paintings?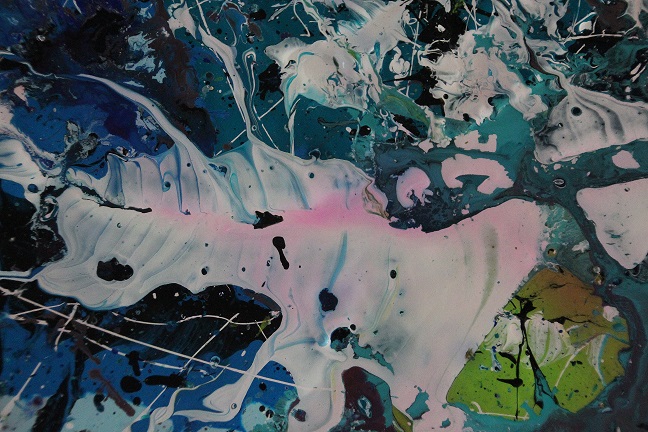 There was a time I did joy to paint every little touch on the canvas even if was a small format, today it has to be a challenge, it has to be large and it has to go deep in my soul.

I did give myself a large canvas gift, just to make myself happy from size 59.05 Inch X 98,42 Inch so 150 cm x 250 cm. Everybody needs a gift time to time.

How can I give myself a large canvas, like somebody else gives herself a new dress? Or maybe go to a nice restaurant? No I have the need to paint, and I do need to paint, otherwise I will feel empty, I have to feel the emotions, and I am driven by the power to create.

Do I do this because of the collector who ask and like larger paintings? The answer is no, I am not even shore or there is a collector who is interested in this large painting. It is more like somebody who did order a vacation, and can't wait to go. I did hang an empty canvas in my own living, and just to look to that empty canvas day after day and it did make me impatient, I could not wait any longer. Yesterday it was so far I did go to my studio choose my color palette and start, I was jumping behind the canvas, I can't describe what a nice feeling it gives if you see things are happening at the canvas.

Now I still sit for hours looking happy at the still wet painting and ask myself Why does it have to be so large?

The photo is a close-up photo from real size ca. 20x30cm

I wish you all a very fine weekend with a lot of sun!
Yours Caroline Vis
What if creating Art is as important for an Artist as breathing?
There is nothing more difficult than being torment by creation, it burns inside your creative brain and won't rest until it is done in reality.
As an Artist I already have made the visualisation of my creation, the idea is there, but the reality is that I can't catch any sleep at night until I get out of my bed and turn my thought and emotion into an Artwork. The working process of the art of painting is not just about ideas or findings, it's a balance between control and chance but also about the physical act of painting, it emerges through the movement of the artist and the paint. Shapes and overflowing colours, each has been changed by the process of abstraction because the painting has its own life. This process produces a composition where I can reflect my inner spirit in total harmony.
For me, being an artist is about inspiration and passion to create Art, not everybody will understand my thoughts behind it or what was the reason or the drive for my creation. Creating an Artwork brings me peace and Happiness, till it starts to burn again.
The technique used to create this abstract painting called "Moving people" was compared to that of Jackson Pollock. This is for me, too much honour. During those several years of painting I never had the chance to experience the feeling of seeing one of the artworks of Jackson Pollock. The desire to see a real Pollock or visit the Peggy Guggenheim museum, was great. Something which I finally did in 2015 in Venice during Christmas time, a must for every who loves art.
The 2016 Collection: "Moving people"
Sizes: 47,2 x 78,7 inches; 120 x 200 cm
Media: Different kind of ink and Acrylics.

Bio of Artist / Maker:

Caroline Vis had a pleasant childhood until the age of 11, when her father left the family. An alcoholic, abusive stepfather took his place. Because of all the sadness, abuse and pain she was confronted with in her late childhood, Caroline started to paint in the middle of the night. She states, "I used paint to put aside the pain and sadness to reach some happiness, and I did succeed."
Caroline painted for years without having any idea of a future as an artist, simply using art as an outlet for her emotions.
For the past few years, she has exhibited her Abstract Impressionist work in galleries and auction houses throughout Europe and the United States. As I mentioned, it is often compared to the work of Jackson Pollock. Caroline states: "For me, art is like breathing. It makes me feel very serene. It makes me feel alive! It gives me the feeling that I can live my life to the fullest."
http://bno.com/1/auctions/international-artist-caroline-vis


Publicatie Artmajeur


Publications of the New Gallery





https://www.kooness.com/posts/magazine/a-peek-into-the-work-of-caroline-vis




https://blog.singulart.com/en/2021/03/30/5-minutes-with-caroline-vis