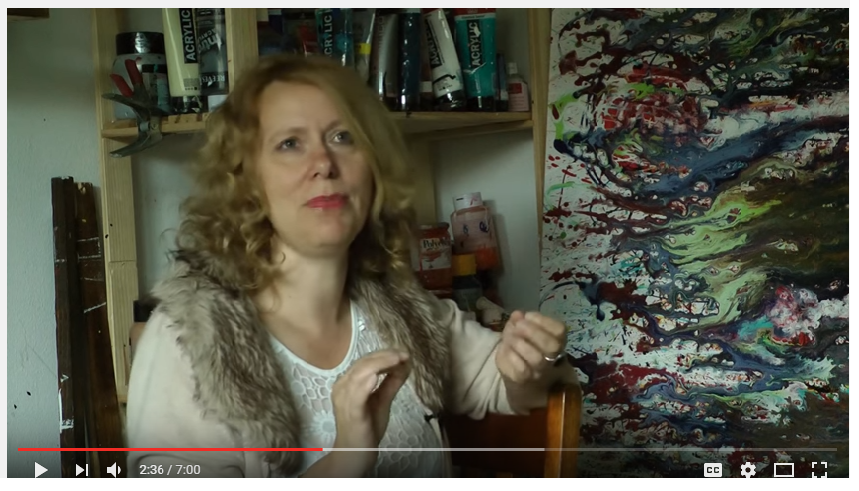 Caroline Vis Emerging Artist

Caroline (1965 Ploubazlanec, France, Born The Netherlands) creates abstract expressionist paintings which often arise in large format.
Caroline started a serious collection at 2013/2014
She was owner of two restaurants but at night she has painted for years, she claimed: I have painted my way of grief to total happiness!
Caroline get be inspirational by her own emotional feelings, most of the time because she has watch an interview or documentaries and is touched by the unfairness of the world.
For Caroline it seems that creating Art is as important as breathing, There is nothing more difficult than being torment by creation, it burns inside your creative brain and won't rest until it is done in reality.
At the moment exhibits Caroline Vis international, and offer her art directly through her website, but also via reputable auction houses in the US and all over Europe. Caroline quotes:: "art to me is like breathing, I can't live without art in my life!"

Education of Caroline:

I had an MBO education and I am autodidact in painting.
I did a lot u study traveling to Venetia an museum all over the world.
I try to get at Art education at an older age, but the professor was wise enough to tell me:
"Caroline at this moment you found out nice new skills of painting and if you go to Art class you will get off course more background of the history of Art, but you will be the one of many, and I do wish you much more"
I went home sad but now years after this old man have make me happy, i am developed my way of creating Art, and I will continue to grow!
New Gallery Large Renovation.
Opening new exposition arround summer or just after summer 2021!
Easter 2 weeks 2019
Saint Quay Portrieux congrescentre.
Art Gallery 4 The Benefit marktstraat 10 Enschede The Netherlands.
October 2016 Marz 2017
Art vernissage Expo. Cannes Mandelieu France.
9-10 -11 December 2016.
Exposition - Art Atelier - Boekelo - Enschede The Netherlands.
December 2015 t/m may 2016.
Galerie - Art My Treasure Gallery - Wilmslow United Kingdom.
December 2015.
Exposition - Drentsche Golf Club - Zeijerveen - Assen. The Netherlands
.
October 2015 t/m January 2016.
VT wonen&design beurs in de RAI Amsterdam The Netherlands.
27 September t/m 2 October 2015.
Kunst in Buren The Netherlands.
13 September 2015.
Kunst in Ootmarsum The Netherlands.
28,29,30 Augustus 2015.
Artnet http://www.artnet.com/artists/caroline-vis/past-auction-results
2016-2017
Artsper contemporary Art France.
April 2016 - December 2017
http://www.absolutearts.com/​
2015/2017