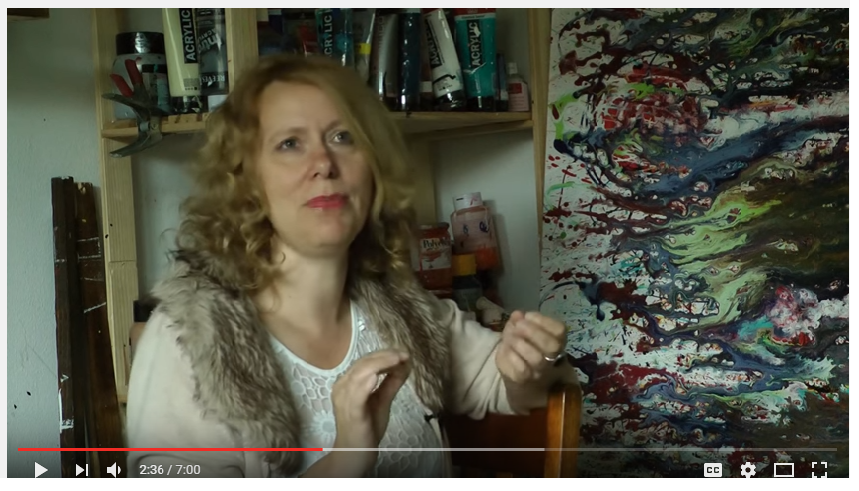 Born in 1965 in the Netherlands, Caroline Vis is registered with I-CAC, Certificate I-CAC No.022/3190. Caroline Vis creates abstract expressionist paintings, often in large format, inspired by her own emotions resulting from listening to interviews, lectures, documentaries or events related to the unfairness or injustice in the world: I painted my way from sorrow to total happiness.
Throughout many years when she had another professional activity, she was mainly painting at night, until 2013/14 when she presented her paintings to the public for the first time.
Self-taught in painting, she has travelled extensively and participated in study trips around the world, including Venice. At an older age, she attended the AKI ArtEZ University of the Arts. One of her professors suggested that rather than taking courses in painting techniques and art history, she should take risks and go further in her personal development in order to remain unique. With these words and encouragement, Caroline Vis developed her own creative artwork and she says: "That's how I'm going to keep doing it.
Today, Caroline Vis is present in a large number of international virtual galleries, in renowned auctions in Europe and the United States and also through her own website.
In 2022 she opens the Contemporary Art Gallery in Ploubazlanec, France.
Galerie open in the summer time daily.
Artsper contemporary Art France.

https://www.singulart.com
Easter 2 weeks 2019
Saint Quay Portrieux congrescentre.

Artmajeur
Art Gallery 4 The Benefit marktstraat 10 Enschede The Netherlands.
October 2016 Marz 2017
Art vernissage Expo. Cannes Mandelieu France.
9-10 -11 December 2016.
Exposition - Art Atelier - Boekelo - Enschede The Netherlands.
December 2015 t/m may 2016.
Galerie - Art My Treasure Gallery - Wilmslow United Kingdom.
December 2015.